Attractiontickets.com Gold Cards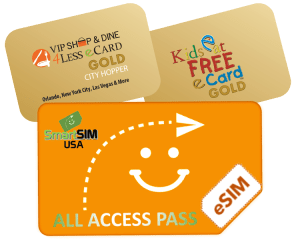 Now Available for All USA Travel Destinations
STEP 1: Complimentary eSIM All Access Pass Redemption Instructions
Order and Redeem your eSIM All Access Pass as soon as possible by CLICKING HERE
Select Order eSIM All Access Pass Now (or you may optionally select Order Physical SIM if your phone is not eSIM compatible. S&H fees apply for Physical SIMs)
Select the quantity (one required per compatible device) and Add to Cart
When ready, click View Cart by clicking on the shopping cart icon in the menu bar
Enter the enter your Code (see code provided by Attractions.com with GLD prefix  and valid only with  GOLD eCards with expiration dates  AFTER May 1, 2025 ) and click Apply Coupon to Update Cart
Proceed to Checkout and complete onscreen instructions and Place Order
Once your eSIM All Access Pass has been fully processed, your will automatically receive a confirmation email with instructions to schedule any VIP Preferred Rate Airtime Plans for your new eSIM All Access Pass.
Note: If you have already ordered your eSIM All Access Pass, please proceed to Step 2 Below
SmartSIM USA® eSIM ALL ACCESS PASSTM FAQ's
Click Here for Unlimited Airtime Plan FAQs
All Unlimited Airtime Plans are sold separately and selected at time of activation request
Physical SIMs also available with direct shipping by SmartSIM USA®. Codes valid towards physical SIMs.
Only $4.99 USD Shipping per physical SIM after applied discounts
STEP 2: Schedule Your esim for activation
eSIM AIRTIME PLAN ACTIVATION INSTRUCTIONS
Schedule Activation Requests For Your Desired Airtime Rate Plans for Use on Your eSIM All Access Pass
Make sure your GSM Duel Sim/eSIM compatible device is UNLOCKED (only your primary carrier can unlock your device)
Once you have secured your eSIM All Access Pass order confirmation, Visit https://smartsimusa.com/esim-airtime-plans-atd/ and click ACTIVATE YOUR eSIM ALL ACCESS PASS NOW (CLICK HERE IF YOU OPTED FOR A PHYSICAL SIM)
(If you have not secured your eSIM All Access Pass yet, go back and GET E-SIM to Order All Access PassTM now. Order/Redemption instruction for your eSIM All Access Pass were issued by your travel provider.)
Enter Your Original SmartSIM® USA Order Confirmation Number for Your eSIM ALL Access Pass
(This was provided in your eSIM ALL ACCESS PASSTM order confirmation email from SmartSIM USA®)
Upload & enter your Device IMEI information as you complete the step by step onscreen instructions and complete Check Out to schedule your eSIM All Access PassTM Airtime Plan.
(See below to access your Device IMEI#)
Select your start date, the length of the Airtime Plan that you wish to have activated and complete onscreen payment instructions to schedule your Activation.
On the morning of the selected start date for activation, and when in the USA, simply restart your device and connect to any WiFi network to complete connection to the TMobile® network.
Note: you will need to provide your device's IMEI number. To find this or access this, you can go to your device settings, or simply dial *#06# from your mobile device and take a screenshot of the Device Info Page displayed on your device for confirmation and upload when prompted.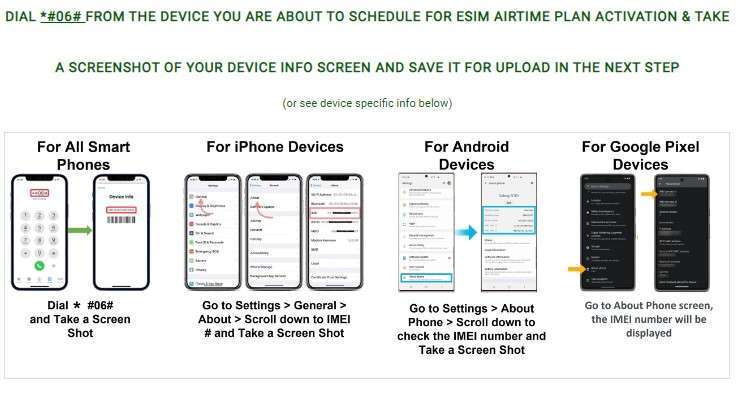 Purchase Of SMARTSIM USA Valencia Orange e-SIM ALL Access PASS Required To Activate e-Sim Airtime plans